Opihr Arabian Edition Gin Set
BLACK LEMONS
Impress your loved ones with this ima-gin-ative set. Containing a 70cl bottle of Opihr Arabian gin, lemon slices, cinnamon sticks, green cardamom seeds for garnish, a branded globe glass and an etched jigger for perfect measures, this superbly stylish set has everything you need to have for an Arabian night of your own. Whether you want to give one to your family and friends or keep it for yourself, there's always a reason to get a Neat & Shaken gin set.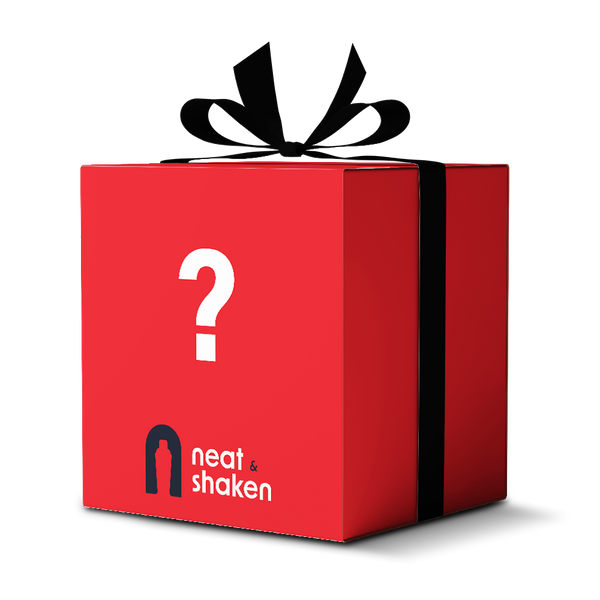 Add £30.00 worth of Liqueurs, Flavoured Gins, or Ready-to-Drink Cocktails (other products excluded!) to your cart and choose a branded gift. Choose a second gift when reaching £60.00!
What Does it Taste Like?
Aroma
: A richly balanced Arabian citrus and spice-led gin. It has smooth, earthy notes from our fundamental juniper core, balanced with unique citrus notes of black lemons and timut peppers.
Taste
: A smooth, rounded London Dry Gin with rich bursts of exotic citrus notes adding a subtle sweetness with a clean, balanced finish.
About Opihr Arabian Edition Gin Set
Spicy, sexy and oh so sophisticated, Opihr's Arabian gin takes the smooth aromas of the London Dry Edition and raises the flavour profile by adding citrus and spice, powerful bursts of Persian black lemons, and rich flavour of timut peppers. Completely unique in taste, this deliciously exotic gin is really is rather special. Pour over tonic and ice for a warming drink on a winter's eve.
Transform your kitchen, living room or broom cupboard into the hottest spot in town with our exclusive Neat & Shaken gift set. Carefully curated with the help of Opihr's in-house master mixologists to get the perfect complementary garnish, our gifts sets will take you from zero to hero in no time. Including everything you need from booze to barware, we promise that staying in has never been so good.
DISCOVER THE JOURNEY ALONG THE ANCIENT SPICE ROUTE
Ophir is a region famed for its wealth and riches which prospered during the reign of King Solomon. The King regularly received cargoes of gold, silver and spices from Ophir and whilst its exact location remains a mystery, it is thought to have been in the Orient along the Ancient Spice Route – a network of sea routes that link the East with the West.
The routes stretch from the West coast of Japan through the Islands of Indonesia, around India and the Middle East – and from there, across the Mediterranean and into Europe. Traditionally merchants would travel thousands of miles along the route, trading exotic spices and botanicals from distant lands.
THE OPIHR RANGE
To continue the journey of flavour discovery, OPIHR launched three Regional Edition gins – European Edition, Arabian Edition and Far East Edition. Each are routed in particular regions along the Ancient Spice Route, drawing inspiration from unique and exotic global flavour trends.

The three Regional Editions combine the unmistakable taste of OPIHR London Dry Gin with distinctive botanicals from along the Ancient Spice Route and share our increasingly adventurous exploration of authentic regional flavours that make our gins distinctly unique, bringing new and exciting tastes to the palate. And that's not even counting the ready to drink collection: all you need to do for the perfect gin cocktail is just twist and go.
Opihr Arabian Edition Gin Set Perfect Serves
Spiced daiquiri
Nutrition Facts Typical Values (per 100ml)
Energy (kJ):
982,
Energy (kcal):
237
Alcohol %:
42,
Alcohol kcal:
220
Fat (g):
<0.5,
of which saturated (g):
<0.5
Carbohydrate (g):
<1.0,
of which sugars (g):
<0.1
You May Also Like...
Bloom London Dry with a Cocktail Making Set
This BLOOM luxury gift set contains a 70cl bottle of Bloom London Dry gin, a rose gold hammered cocktail shaker, a measuring jigger, and a cocktail bar spoon. BLOOM London Dry Gin beautifully blends floral botanicals to create a light...
Bloom London Dry & Aspinal Luggage Tags
BLOOM Gin has partnered with Aspinal of London, manufacturer and retailer of luxury leather goods, on a deluxe gift set containing a BLOOM London Dry Gin bottle and two bespoke Aspinal luggage tags. Add a touch of luxury to your...
Greenall's London Dry with Glass & Jigger
Premium in look and quality in taste, it's the perfect gift for any gin lover. Greenall's Original London Dry Gin 70cL comes in our beautifully branded gift box that contains a long glass and a measuring jigger. For over 250...
For quality spirits and pioneering brands, Neat & Shaken is the answer.
Free Shipping over £100
In England, Wales & Lowlands
Loyalty Program
Earn points every time you shop.
Trusted & Secure
Assured Protection Guaranteed.
Carefully Packed
and delivery right to your doorstep
Your cart is currently empty.

Special gift unlocked!
Choose a gift!

Reach £30.00 on Liqueurs, Flavoured Gins, or Ready-to-Drink Cocktails and choose a gift (other products excluded)!

Reach £60.00 on Liqueurs, Flavoured Gins, or Ready-to-Drink Cocktails and choose another gift (other products excluded)!
Shipping UK
Taxes and shipping fee will be calculated at checkout